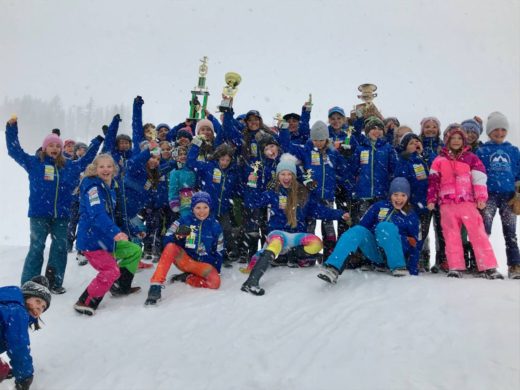 The Emerald Empire Youth Ski League (EEYSL) are ski teams residing in the Eastern Zone of the Pacific Northwest Ski Association (PNSA) of the Western Region of the United States Ski and Snowboard Association (USSA) dedicated to bringing together ski racers 15 years old and younger for healthy and fun ski racing competition. The ski races hosted within the EEYSL are sanctioned by USSA. Members in good standing, holding the age-appropriate USSA Competitor's License are eligible to enter these races and register below.
SARS 2-day and 3-day competition team athletes typically compete in these races. The Parent/Athlete Handbook and EEYSL Competition Guide (2019 guide coming soon) outlines essential information for participating families. If you have any questions after reviewing the Parent/Athlete Handbook and Comp Guide, contact Coach Rebecca (becca@sars.net).
EEYSL @Schweitzer Mt. Resort
EEYSL #1 Chad Engstrom Races – January 21-22, 2021
Presented by Schweitzer Alpine Racing School (SARS)
Event details:
Dates: Thursday, January 21, 2020 – GIRLS ONLY. GS and SL. U8/U10/U12. Max 100 competitors

Friday, January 22, 2021 – BOYS ONLY. GS and SL. U8/U10/U12. Max 100 competitors
Location: Schweitzer Mountain Resort
Race Announcement / Lodging
Waiver of liability (please complete and submit at time of registration)
Volunteer information:
The EEYSL race requires about 40 volunteers each day. To volunteer, refer to the matrix below to see which positions are still available, read the descriptions, then follow the link to final link for more information about volunteering for SARS events and to complete a race volunteer sign-up form.
EEYSL @Mt. Spokane
EEYSL #2 Gary Peck Memorial Races – February 20-21, 2021
Presented by Mount Spokane Ski Race Team (SSRA)
Saturday, February 20, 2021 – Slalom – U8, U10, U12
Sunday, February 21, 2021 – Slalom – U8, U10, U12
Location: Mt. Spokane
Race Announcement/Lodging  – coming soon
Liability waiver – coming soon
More details from PNSA
EEYSL @Lookout
EEYSL Finals – March 6-7, 2021
Presented by Lookout Pass Racing Team (LPRT)
Saturday, March 6, 2020 – Slalom – U8, U10, U12
Sunday, March 7, 2020 – Giant Slalom – U8, U10, U12
Location: Lookout Pass
Race Announcement/Lodging – coming soon
More details from PNSA