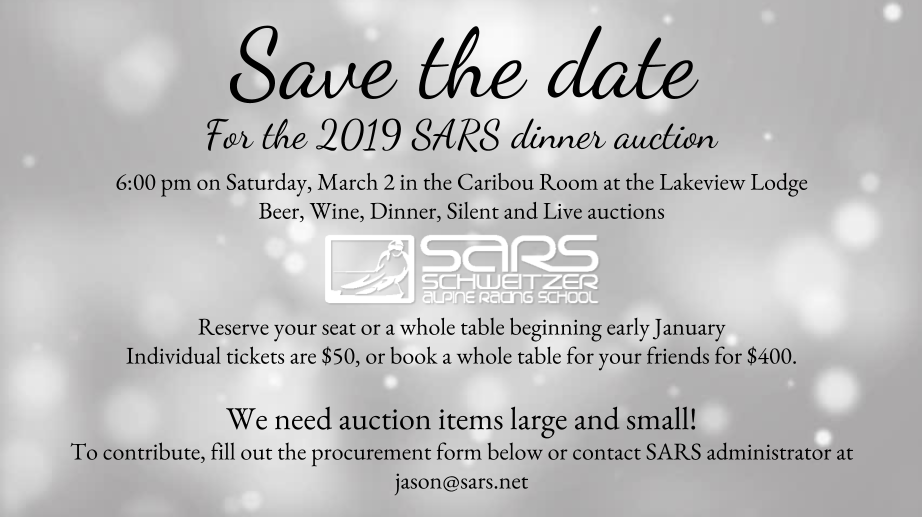 Schweitzer Alpine Racing School (SARS) is holding its Annual Fundraising Dinner and Auction event on Saturday, March 2, 2019. This event supports SARS' mission to positively impact individuals through ski racing while teaching the lifelong lessons this athletic endeavor fosters in participants of all ages. All of the funds raised will go to support the wide variety of programs we offer every year.
We are in the process of collecting auction items large and small.  Your tax deductible donation of goods, services, or "experiences" will allow us to continue to provide professional, high quality coaching, teaching and lifetime outdoor fun to our athletes.
To ensure a successful fundraiser, participation from all club families is key. Each family please choose two or more of the following: procure donations, make a cash donation, buy tickets, participate in the live and silent auctions, and/or pre-auction volunteering. This event has a limited number of tickets and has sold out for the last five years prior to the event.  Absentee bidding is available upon request.
Thank you in advance for your generous support!
SARS Auction Steering Committee
Schweitzer Alpine Racing School
Donation Procurement
How to Donate Auction Items
Schweitzer Alpine Racing School (SARS), a 501(c)(3) nonprofit organization, is supported financially through donations like yours. Please note that your donation is tax deductible to the extent allowed by law. Individual items and/or gift certificates may be combined at the discretion of the SARS Auction Steering Committee.
Dinner Tickets
Tickets
The 2019 SARS Dinner Auction is SOLD OUT!
This is an adult event, all guests must be over 21 years of age.
Purchase tickets below for one, two, three, or four guests, or for a whole table.
If you purchase a table but are not sure who all eight guests will be, please enter "TBD" in the guest boxes.
Each ticket includes dinner and two drink tickets.
No physical tickets will be issued. Your guest name(s) will appear on the list at check-in.
Volunteer
How to Volunteer
Reference Family Volunteer Policy for SARS family volunteer commitment details
Read the descriptions of the different volunteer duties below.
Check the volunteer matrix to see where there are still openings.
Complete the auction volunteer form (bottom of this page) to express your interest to the volunteer coordinator.
Await an email from the volunteer coordinator in the week before the auction to confirm your assigned shift.
Saturday, March 2nd
Shift 1: 11:00 am – 3:00 pm
Transfer donations to 3

rd

floor staging area from trailer/office/auto

Check in 

donations using preassigned section list and attach corresponding number

If new donation, create bid sheet, determine section and assign number

Place donation in assigned section in staging area
Shift 2: 3:00 pm – 6:00 pm 
Put linens on tables according to section (color coded)

Set up centerpieces

Arrange Dessert Table (including small plates, forks, signage for each item)

Place donations in numerical order on tables corresponding to section color; only reason to be out of order is if too large or  needs to be hung up or displayed differently in someway

Bid Sheets

Pencils

Tuck 'n Tidy
Shift 3: 6:00 pm – 9:00 pm (during event)
Spotters/Recorders  (4 volunteers)

Runners (2 volunteers)
Key Sales  (athlete volunteers)
Raffle ticket sellers (athlete volunteers)
Shift 4: 9:00 – 10:00 pm (after event)
Table Watchers  (2 volunteers)

Runners  (4 volunteers to help buyer locate purchased items)
Clean up (assist Schweitzer crew to clear dinnerware, glasses, silver, etc after close of auction)
Collect and box centerpieces
Collect bid numbers
Remove and toss programs
Pick up pencils
Pick up miscellaneous auction litter, like signs, leftover bid sheets etc.
Remove items not picked to 'trailer' or?
Assist where needed
Cash Donation
Can't attend the auction?
If you can't attend the auction, ask a friend to bid for you
Consider a donation to the auction below