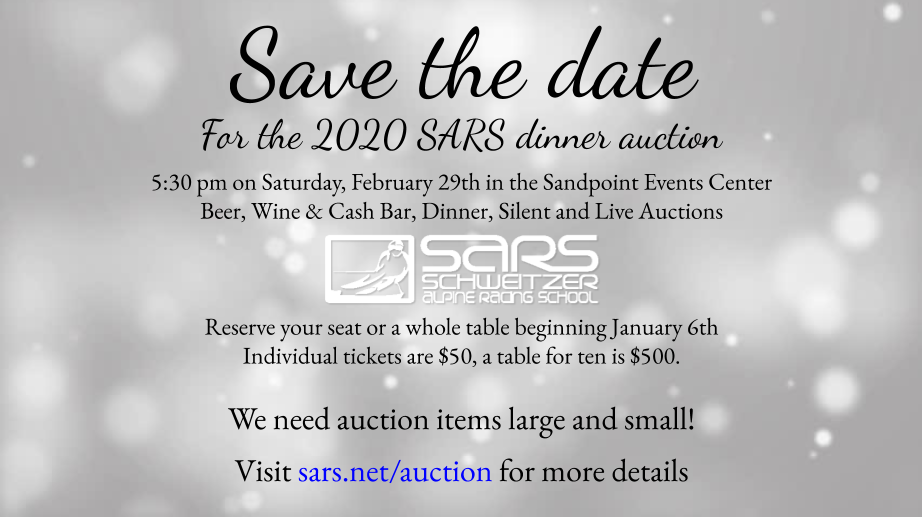 Details
Online ticket sales have closed. We still have some seats left; if you'd like to attend the auction, please call Jason at 208-290-0137. 
CLICK HERE TO COMPLETE AN AUCTION DONATION PROCUREMENT FORM
Schweitzer Alpine Racing School (SARS) is holding its Annual Fundraising Dinner and Auction event on Saturday, February 29th, 2020. This event supports SARS' mission to positively impact individuals through ski racing while teaching the lifelong lessons this athletic endeavor fosters in participants of all ages. All of the funds raised will go to support the wide variety of programs we offer every year.
This year's auction will be held at a new venue, the Sandpoint Events Center. A shuttle will be available from Schweitzer Mountain for a nominal fee. Please indicate on your ticket order form how many shuttle seats you'll require. Seats will be limited and will be allocated first come first serve.
Item Procurement
We are in the process of collecting auction items large and small.  Your tax deductible donation of goods, services, or "experiences" will allow us to continue to provide professional, high quality coaching, teaching and lifetime outdoor fun to our athletes.
To ensure a successful fundraiser, participation from all club families is key. Each family please choose two or more of the following: procure donations, make a cash donation, buy tickets, participate in the live and silent auctions, and/or pre-auction volunteering. This event has a limited number of tickets and has sold out for the last five years prior to the event.  Absentee bidding is available upon request.
Thank you in advance for your generous support!
Volunteer
We'll need volunteers on the day of the event to help collect and transport donated items to the event venue. Read the descriptions below and complete the form to indicate if you are able to help make this event a success!
Saturday, February 29th:
Shift 1: 8:30 am – noon @White Pine Lodge
4 volunteers needed
Receive and record donated items into our auction website
Create bid sheets for items
@noon load items into SARS trailer for transport to auction venue
Shift 2: noon – 3:30 pm @Sandpoint Events Center
4 volunteers needed
Unload donated items from SARS trailer and move into auction venue
Help auction committee members organize items on display tables around banquet room, arrange bid sheets
Arrange dessert table
Decorate tables and help set tables for dinner
Buy Tickets
Details:
This is an adult event, all guests must be over 21 years of age.
Purchase tickets below for a few guests, or for a whole table (10 guests).
Please enter the names of your guests. If you are not sure who will be joining you at your table, put "TBD" and email Jason Welker (jason@sars.ent) at your earliest convenience with names.
Each ticket includes a buffet dinner and two complementary drinks (beer or wine).
No physical tickets will be issued. Your guest name(s) will appear on the list at check-in.