Schweitzer Alpine Racing School (SARS) is holding its Annual Fundraising Dinner and Auction event on Saturday, March 10, 2018. This event supports SARS' mission to positively impact individuals through ski racing while teaching the lifelong lessons this athletic endeavor fosters in participants of all ages. All of the funds raised will go to support the wide variety of programs we offer every year.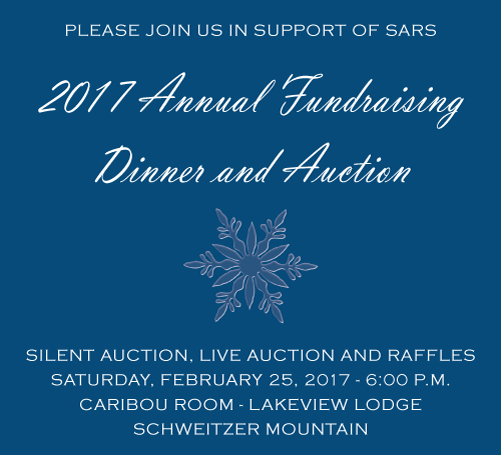 We are in the process of collecting auction items large and small.  Your tax deductible donation of goods or services, will allow us to continue to provide professional, high quality coaching, teaching and lifetime outdoor fun to our athletes.
Attendance and participation at this fun event will secure a successful fundraiser.  This event has a limited number of tickets and sold out for the last three years prior to the event.  Absentee bidding is available upon request.
Thank you in advance for your generous support!
SARS Auction Steering Committee
Schweitzer Alpine Racing School
Donation Procurement
Purchase Tickets
Cash Donation
Volunteer
How to Donate Auction Items
Schweitzer Alpine Racing School (SARS), a 501(c)(3) nonprofit organization, is supported financially through donations like yours. Please note that your donation is tax deductible to the extent allowed by law. Individual items and/or gift certificates may be combined at the discretion of the SARS Auction Steering Committee.
Tickets
This is an adult event, all guests must be over 21 years of age
Purchase tickets below for one, two, three, or four guests
Tables for ten can also be purchased below
Each ticket includes dinner and two drink tickets
All guest name(s) will appear on a list at the door for entry into event
Auction tickets are currently sold out.  Please email auction@sars.net to be added to the wait list.  Thank you.
Can't attend the auction?
If you can't attend the auction, ask a friend to bid for you
Consider a donation to the auction below
How to Volunteer
Reference Family Volunteer Policy for SARS family volunteer commitment details
Select shift and submit volunteer inquiry form below
Look for a reply email from Volunteer Coordinator to confirm your volunteer day(s) and shift(s)