NWC and FIS race COVID forms
All athletes, coaches, officials, and volunteers participating in the Schweitzer NWC and FIS races from February 21st – 26th must complete the 48-24 hour and Race-day COVID forms in order to participate in these events. Please  find the forms with instructions below:
Auction Update – Bidding site now live, date set for March 13-20
The 2021 SARS Fundraising Auction and Paddle Raise is going to look quite different from recent years! Not surprisingly, the event will be held 100% online this year, but that doesn't mean we're not bringing just as many fun and exciting items and experiences to the community to bid on! And yes, we'll e relying a bit more on the Raise the Paddle this year for our club to meet the all-important fundraising goal. Fundraising, as you know, is what allows SARS to continue offering a competitive tuition rate for what is the premier ski racing program in the Pacific Northwest if not the entire Western region!
This year's auction will take place over the week from March 13th through the 20th. The countdown is, quite literally, on, and you can preview the items on which you'll be able to bid right now!
As you will see, we already have some pretty exciting auction items, but we're still looking for more! If you have an idea or able to procure something you think would fit well with our community, please head over the auction page on the site and let us know about it so we can get it up on the bidding page!
Chad Engstrom EEYSL Race Results
Amazing event at Schweitzer today, with 82 girls from 8 different programs competing in TWO full GS races on Loophole. The conditions were excellent and all competitors and volunteers put in a great effort to make the race a success. Results are below!
Home Series Race #1 results
Saturday, January 9th provided a splendid day for our first home series race of the season, with nearly 200 SARS athletes age 5-11 competing in Schweitzer's Prime Time race arena! While SARS is a competition-based club, our Home Series races are all about kids having fun and getting some experience running gates in a timed environment. In the view of our coaches, parents, and teammates, everyone who participates in a Home Series race is a winner! That said, we know some people appreciate being able to examine their times, so we're sharing them here.
Our next scheduled race is the Chad Engstrom Memorial Emerald Empire Youth Ski League Race #1, scheduled for January 28th (girls) and 29th (boys). We still need quite a few volunteers for this event, so please have a look at the volunteer matrix for open positions, then go indicate your availability here.
Happy New Year! Regular training schedule now live online
Holiday Camp 2020 was a huge success with excellent weather for three of the five days, followed by a couple of powder days to end the week! Beginning now our regular SARS training schedule is on. Be sure to check the training page before each day of youth or junior team practice to confirm what your child's group will be doing and send them with the correct equipment.
Just a reminder that the SARS family are ambassadors of Schweitzer Mountain Resort, and to that end we are held to a very high standard and expectations by our friends at Schweitzer when it comes to following mountain rules and protocals that have been put in place to limit the spread of COVID-19. This means SARS athletes and their families are required to wear masks in lift lines and when in the lodges at all times. Any SARS athlete caught without a mask risks harming both the reputation of SARS and our ability to continue using Schweitzer as a venue for training and races. Your cooperation in this effort to keep our community and the greater Schweitzer community safe is greatly appreciated!
SARS Gear Trade now live on the site!
It's been a long time coming, but we finally have an online market place where SARS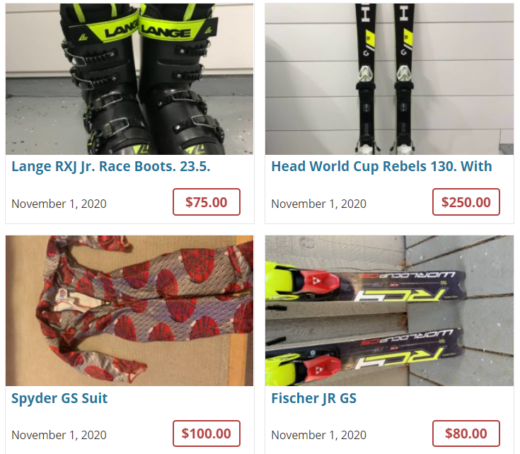 families can buy and sell equipment between one another! There are already dozens of quality race equipment items up for sale! View this as a way to make sure your young athlete's equipment that they've outgrown goes to a good home, or as a way for you to secure equality equipment without taking on a huge expense every year!
Check out the Gear Trade page now!
Welcome to the 2020/2021 winter season!
With Schweitzer set to open in late November, SARS has been preparing for another exciting winter of alpine ski racing and training. While we know things are going to look a little different on the mountain this year, we are doing our best to make sure the SARS program looks as normal as possible. Our programs filled up in record time this year, reaching capacity just three weeks after registration opened in September. If you are a family looking to get your kid into SARS, please reach out to our program director, Jamie Landwehr. We still have openings in our Junior program (ages 12 and up), which you can learn more about here.
Team Logo Apparel
Check out team apparel for all ages in the Shop tab above.  Just in time for the holidays!  Learn more.