Last call for ski swap item and check collection!
SARS hosted another extremely successful ski swap at the Bonner County Fairgrounds this weekend that saw over 80 volunteers put in two days of work and over 1,500 shoppers get the best deals around on ski and snowboard gear for the upcoming season! A huge thanks to all the dedicated volunteers who made it possible, as well as to those who provided gear and equipment for the sale and everyone who came to shop on Saturday!
For those who consigned items for sale but did not make it to collect their checks or unsold equipment on Saturday evening, the last call for gear or check collection is between 3 and 5 pm on Tuesday, November 12th at SARS World Headquarters at 4107 Samuelson Ave, Bldg F, Sandpoint. Our office is located in the Ponderosa apartment complex directly behind the fairgrounds. 
Any items not collected at this time will be donated to the North Idaho Mountain Sports Education Foundation (NIMSEF) to benefit snowsports education for underprivileged youth. Checks not collected at this time will be considered as a donation to SARS and will go towards keeping our non profit ski racing program affordable to the famines of our athletes.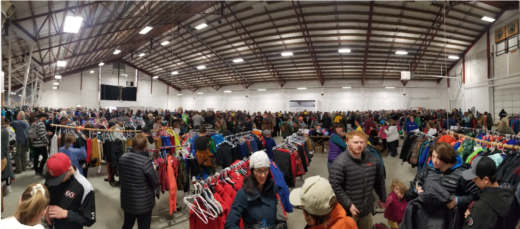 Ski Swap: November 8th (drop off) and 9th (sale)
The unofficial kickoff of the ski season is happening at the Bonner County Fairgrounds on November 8th and 9th! Lots of SARS families are needed to make this event a success. If you haven't already, sign up to volunteer here.
Please share our post on Facebook; we want a huge turnout this year so SARS can raise enough money to keep our program affordable for our families!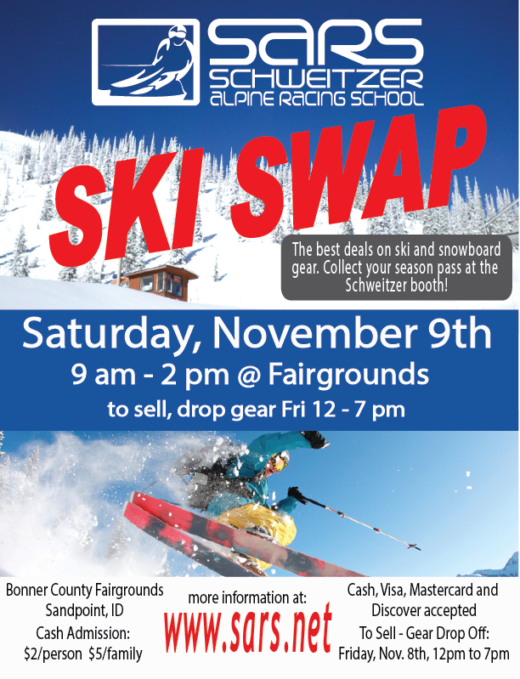 Fall Camp registration is now open!
It's hard to believe that ski season is just over two months away! For U10 athletes and older, your first chance to get on the snow is just around the corner. Registration for Fall Camp #1 (November 23rd – November 30th) and Fall Camp #2 (December 5th – December 10th) is now open. Some things to know before you register:
Camp #1 is for athletes born in 2010 or older (second year U10 athletes and up).
Camp #2 is for athletes in the U14 program and older.
Find more information about both camps and links to register here.
Registration open for the 2019/2020 season!
It's September 1st, 2019 and our registration is open for 2019- 2020 SARS youth, junior, STARS, masters, and freeride programs.  Register by October 15th and save 10%.  Also, please note that last year we reached our carrying capacity and had to shut down registration to maintain our program quality.  
While completing your registration please read the program descriptions first to make sure you are selecting the program that best suits you / your child.  Also, please carefully read the agreement to assume risk of injury, athlete agreement, family volunteer policy, and Schweitzer Mountain indemnity release thoroughly.  Submit all email address that your family intends to use so that we are able to ensure we are communicating effectively with each of you.
Team Logo Apparel
Check out new team apparel for all ages in the Shop tab above.  Just in time for the holidays!  Learn more.