2023 SARS Dinner Auction on February 25th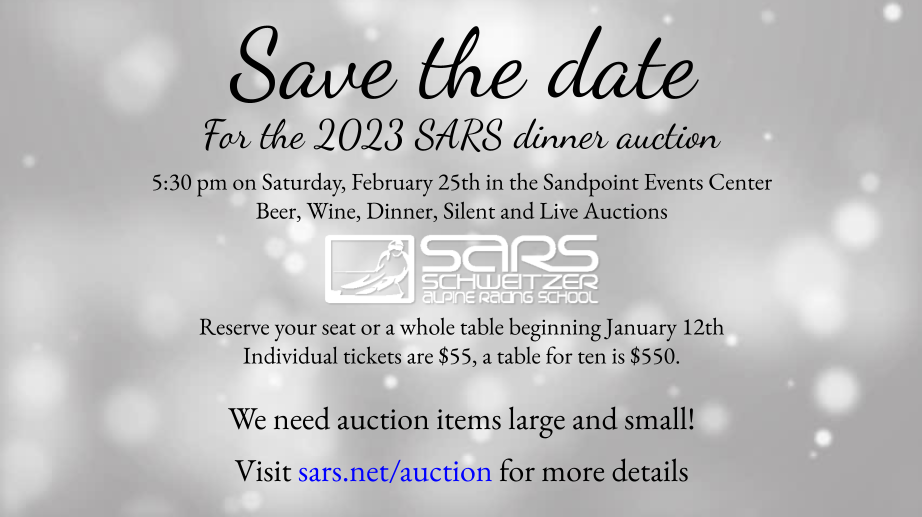 The SARS Dinner Auction is back! This year we are commemorating 60 years of SARS promoting mastery and a life-long love for the sports of competitive alpine skiing!
Tickets are on sale now, and we are soliciting item donations large and small for our silent and live auctions! Your contributions to this fundraising effort are what make it possible for SARS to continue to offer its programs at a competitive, fair price to the youth of the Inland Northwest!
Learn more about the event, the venue, and how you can be involved on the auction page of our website.
HOW YOU CAN SUPPORT THE EVENT:
Attend the dinner auction – $55 gets you two drinks, a commemorative glass, and a catered dinner. You can purchase individual tickets or a table for ten, as well as shuttle bus tickets here.
Help procure auction items – we need items of all sizes, values, and varieties! Enlist your kids to help procure items from family, friends, or local businesses! Learn more about item procurement and donation here.
Volunteer – We need about 8-10 volunteers to help organize items and set up the venue on the day of the event. Sign up here to be a volunteer.
Jackets, Mittens, and Hats, OH MY!!
SARS has some cool new logoed mittens and trucker hats available in the Clubhouse for sale! Swing by and grab your schwag, then click HERE to pay. This is also where you can pay the $50 we are asking parents to pitch in towards the unforeseen higher jacket prices costs this year.
SARS Gear trade page
Do you have athlete equipment your kid has outgrown? Are you looking for some lightly used skis for the new race season? Boots, skis, tuning equipment, apparel, and more; we invite you to post your items to the SARS Gear Trade page, which is back for the 2022/2023 season.
When posting an item, please create an account so that you can manage your post. If an item sells, please log in and delete the posting from the site.
Team Logo Apparel
Check out team apparel for all ages in the Shop tab above.  Just in time for the holidays!  Learn more.