Welcome to Schweitzer Alpine Racing School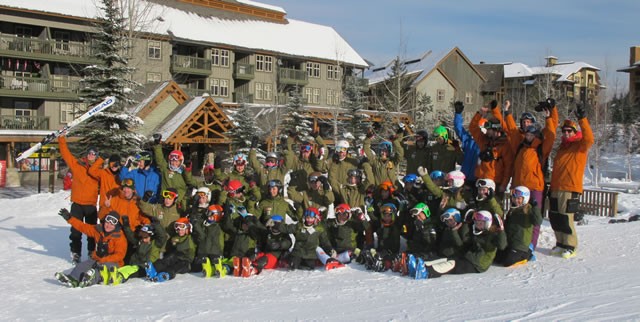 Mission
Core Values
Staff
Board of Directors
SARS has been active at Schweitzer Mountain since the resort opened in December of 1963. Founded originally as a ski racing club, SARS has grown over the years into a ski team supporting alpine racers of all ages as well as freestyle skiers. We provide a fun, friendly environment for people of all ages to increase their knowledge and skill levels in skiing, ski racing, freestyle and snowboarding.
The SARS mission since the early years is dedicated to promoting mastery and a life-long love for the sports of competitive alpine skiing and riding through a variety of on hill programs. SARS delivers the highest applicable level of coaching and value to all ages at the Northwest's premier ski resort.
Schweitzer Alpine Racing School competes in the Pacific Northwest Ski Association (PNSA) division of the Western Region of the United States Ski and Snowboard Association and has been one of the most successful ski teams in PNSA for many years. We have produced an Olympic athlete and US Ski Team member as well as over a dozen Nor-AM athletes and Divisional Champions.
We consistently send racers to Western Region Championship Events and have been regularly represented at Junior National Championships, US Senior National Championships, and Nor-AM Finals; the championship of North America's highest level of competition.
At the youngest ages, the SARS YSL team (6-11 years old) are the reigning Inland Northwest Emerald Empire Youth Ski League champions and the U14 Team is a consistent top 3 finisher at the PNSA Buddy Werner Championships.
Schweitzer Alpine Racing School is far more than just a competitive winter sports club.  SARS is a family based organization encouraging volunteer time from all participants and their family members.  In return, our members learn lifelong lessons about safety, fitness, and responsibility while refining their skiing and snowboarding skills.  Most children participate with SARS for several years, which enables us to powerfully install our core values: teamwork, discipline, health and wellness, and citizenship.  These values promote quality citizens engaging in a high standard of life.
Jamie Landwehr
Program Director/Head Coach
jamie@sars.net
Jason Welker
Administrator
jason@sars.net
Chris Acosta
FIS Team Coach
chris@sars.net
Cathy Gidley
STARS Head Coach
Jim Landwehr
Masters Weekend Head Coach
jlandwehr1@gmail.com
Caleb Mullen
Freeride Head Coach
Ted McNamara
U14 Head Coach
ted@sars.net
Becca Cristando
YSL Head Coach
becca@sars.net
Michael Radford
U16 Head Coach
michael@sars.net
Sue Schwartz
Junior Teams Coach
sue@sars.net
Chris Thompson
Masters Midweek Head Coach
mistert@nctv.com
Board Minutes
Scott Hislop
Board President
Curt Hammond
Board Treasurer
Chris Thompson
At Large Board Member
Roger Root
At Large Board Member
Heath McHenry
At Large Board Member
Brian Sturgis
At Large Board Member
Lara Wohllaib
At Large Board Member
Steve Cervi-Skinner
At Large Board Member
Brian Hickok
At Large Board Member
Mike Overby
At Large Board Member
Travis Dix
At Large Board Member