This competitive based program will be targeting the Regional Junior Freeride Tour (aka Big Mountain Judged Competitions). This is the program for the strong skiing, enthusiastic athlete looking for an alternative to racing yet who still has a desire to be a member of a team, compete, and improve all around skiing skills by means of coaching. Participation/time requirements are significantly less than that of our partner race programs at this level of participation and competition.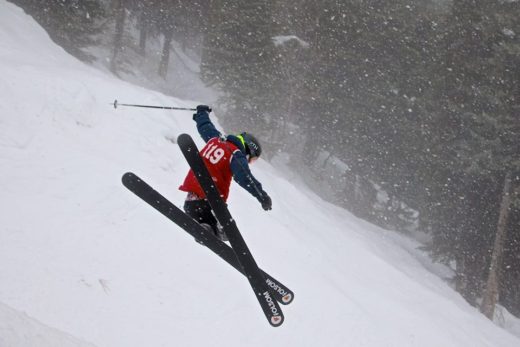 Younger athletes (11 and under) interested in this SARS Junior freeride team that are not age eligible should seek further technical training with either the SARS YSL race team or one of the Schweitzer Mountain Resort youth programs (Mountain Explorers or Funatics). SARS YSL race teams spend the majority of their time honing racing as well as all-mountain skills while gaining a love and appreciation for the sport and competing in Home Series races. YSL-aged athletes that choose not to travel and compete at EEYSL races have the option to participate in all resort related age appropriate events.
Read about our Junior Freeride programs below. When you're ready to register, click "Register Now."
2019/2020 Program Options and Pricing
Freeride Holiday Camp only
Freeride Tour Team 1-Day + Holiday Camp
The Freeride Holiday camp is a great way to try the program out. SARS offers three day of freeride training days from December 28-31. Athletes will work on the technical aspects of skiing and riding while having a great time in small groups. If an athlete decides to upgrade to a season long program, the camp cost will be applied to the appropriate program.
Junior Freeride Holiday Camp Only
Age Eligibility: U14 (year of birth 2007) and older
Regular Registration – $120.00
Dates: December 28-30
Time: 8:45 – 11:30 and 12:30 – 3:00 (athletes have lunch with their families)
Athletes must be strong, technically proficient skiers that can easily ski the entire mountain (previous race experience is highly encouraged). Competitions comprise of Junior Freeride Tour Events (aka Big Mountain Judged Competitions). The team will identify roughly four competitions within our region with the expectation that SARS Freeride team members must compete in at least two of these competitions.
The Freeride Team will travel as a team using the same model as our Junior Race Teams (see parent handbook).  Training begins with a three-day Holiday Camp and continues every Saturday thereafter until the first weekend in April.  Training sessions will include but are not limited to: technical skiing instruction, safety, line selection, and competition judging criteria.
Junior Freeride Tour Team 1-Day
Age Eligibility: U14 (year of birth 2007) and older
Early Registration (Before Oct 15) – $900.00
Regular Registration (After Oct 15) – $990.00
Dates: December 28-30 (Holiday Camp) then every Saturday through the first weekend in April.
Time: 8:45 – 11:30 and 12:30 – 3:00 (athletes have lunch with their families)