2023 SARS Sandpoint Ski Swap – November 11th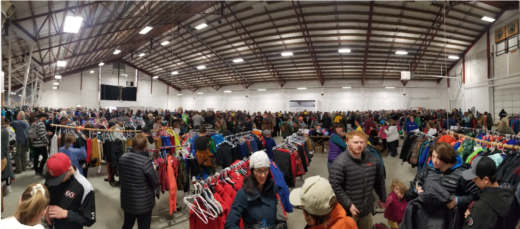 Kickoff the ski season and find great deals on snow gear – from skis and snowboards to a huge variety of winter recreational equipment and clothing at the SARS Annual Ski Swap.
Thousands of new and used equipment and clothing at discount prices. Highly organized with several professionals on hand for buying assistance. Outfit the entire family – skis, snowboards, boots, poles, bindings, helmets, hats, goggles, gloves, jackets, pants, socks, and more.
The annual event benefits the SARS's ski racing and freeride programs for almost 300 local and regional athletes ages 5 and up. We appreciate your support!
How to Buy
This year's swap is on Saturday, November 11th from 8am – 2pm at the Bonner County Fairgrounds.
Saturday, November 11th, 2023
Hours: 8:00am to 2:00pm
Location: Bonner County Fairgrounds, 4203 N. Boyer Road, Sandpoint, Idaho
Admission fees: $5/person $10/family
Parking is FREE!
Cash, Visa, Mastercard and Discover credit cards accepted
How to Sell
Members of the public are invited to sell their used ski equipment through the SARS ski swap. 20% of sales go to the organization, you keep the other 80%. Consignment fees are $0.50 per item.
How to Volunteer
The Ski Swap marks the first volunteer opportunity of the season for SARS community members. We need lots of help to pull this event off, so please take the time to complete the form below to indicate when you are able to join us!
Reference Family Volunteer Policy for SARS family volunteer commitment details
Read Volunteer Job Descriptions to understand the various jobs available
Select shift and submit volunteer inquiry form below
A confirmation email will be sent to you reflecting your committed volunteer day(s)/shift(s).
2023 Ski Swap Volunteer Form